CNC controls
GOYA 100
Our range of CNC control products have their names taken from great artists of the past namely: GOYA; PICASSO; RUBENS; BACH; and AUBER. These components offer a low-cost introduction into the world of CNC control.

The GOYA controllers are CNC multi axis controllers for automatically controlling machines using stepper or servo motors. They are designed for synchronised motion where
two or more axes are run simultaneously.

Motion programs are written in ISO (G-Gode) which is easy to use and is familiar to most CNC machine operators. Programs can be written using the 'BACH' PC based software which allows operators to edit and verify programs
before downloading them to a controller via the RS232 port.
It is not necessary to the Windows based S & H software, it is possible to send the program files as ASCII characters using other software written by the machine manufacturer. Programs can be stored in the controller and executed as
required.

The controller can be used independently of a PCas programs are stored in a non volatile memory. Typical applications are XYZ profiling tables, pick & place, automatic
welding, engraving, packaging machines, glueing and painting.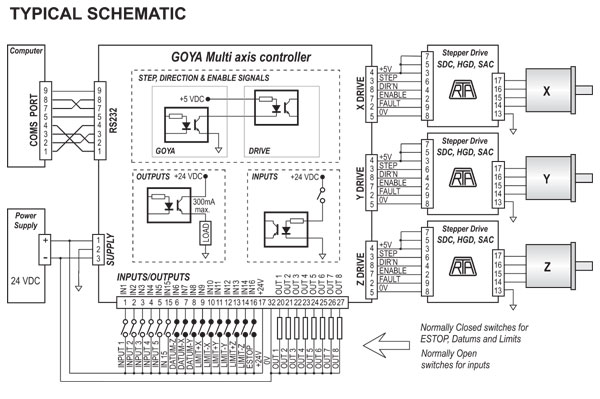 SPECIFICATIONS:
POWER SUPPLY REQUIREMENTS
24 VDC @ 6W

ENCLOSURE
DIN 144 x 144mm (panel) X 156mm aluminium
panel mounting (cut out 139 x 139mm)

WEIGHT
1kg

OPERATING TEMPERATURE
0 to 45 deg C

DIGITAL INPUTS
16 off, +12 to +35 VDC
Opto-isolated
(some required for limit+, limit- and datum inputs)

DIGITAL OUTPUTS
8 off,+12 to +35 VDC @ 300mA
opto isolated

SERIAL PROTOCOL
9600 baud, 8 data bits, ODD parity, 1 stop bit

STEPPER DRIVE SIGNALS
Step, direction, drive enable, drive fault
100kHz max, 15 bit resolution
NPN current sink or 5V TTL

SERVO DRIVE SIGNALS
Velocity, direction, drive enable, drive fault
+/- 10V, 2 bit resolution

ENCODER INPUTS
5V differential
Maximum 250kHz

CONNECTORS
(on rear panel)
Drives: D9 male
Encoders: D9 female
Inputs/Outputs: D37 female
RS232: D9 male
CAN BUS: D9 male
Analog input: D9 female

PROGRAM MEMORY SIZE
200000 characters stored in GOYA
---