Mitsubishi F500 Series Inverters
The Mitsubishi F500 series comprises advanced inverters which have been specifically adapted for energy saving applications.

They are the perfect drive for pump and fan applications such as the water industry and where heavy-duty ventilation is required. The series incorporates class-leading technology compacted into Mitsubishi's smallest ever frame size.

The F540L ranges from 75kW up to 530kW.
F500 series features:

1) +/-Pursuit of economy and comfortability

Industry-leading energy savings was achieved through newly developed optimum excitation control.
By controlling the excitation current to be at its optimum continuously, the motor runs at the highest efficiency thus enabling maximum energy savings.

An example of improvement of the motor efficiency (Inverter operating at 60Hz, FR-F540-3.7K, Motor SF-JR4P3.7kW)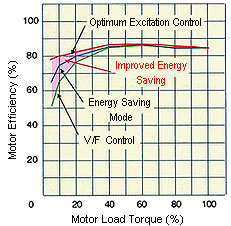 Optimum excitation control improved motor efficiency resulting in economic savings.
For example, at 10% of motor rated torque
| | |
| --- | --- |
| Control method | Motor efficiency |
| V/F control | Approx. 65% |
| Energy saving mode | Approx. 75% |
| Optimum excitation control | Approx. 80% |
Approximately 15% improvement in motor efficiency as compared to the previous V/F control system can be achieved when optimum excitation control is used.

An example of characteristics of the blower operation (the discharge side)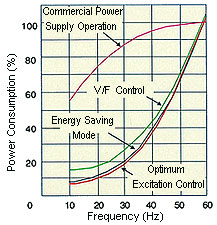 * Optimum excitation control minimizes motor loss and reduces electricity consumption to provide greater economy and energy savings.

For example, when an inverter is operating at 20Hz
Using optimum excitation control, the electricity consumption ratio is reduced approximately 45% as compared to using the conventional V/F control system.
A reduction of approximately 5% is achieved as compared to using the energy-saving mode.

* Connection with the high-performance(*)FR-BEL-(H) DC reactor reduces the initial costs for power-supply and peripheral devices.
(*)At 100% load, input power factor is improved to approximately 95%.

* Ideal solution for Fan/Pump applications.

PID control equipped as standard has made air-conditioning control applications more precise.

Commercial power supply switch-over sequence provides automatic back-up to the commercial power supply.
2) Simple operation and maintenance

* The FR-DU04 control panel with simple operation is provided as standard on all models. Parameters also can be stored by.
* The FR-PU04, LCD parameter unit with backlight is available as an option. (8 different languages are available on this unit.)
* Removable control terminal block makes maintenance easier.
* The life of the cooling fan has been extended by the use of ON/OFF control, and replacement is easier.
3) Environmental friendly
* With the adoption of the original developed Soft-PWM control method, the increase in acoustic noise can be suppressed and RFI noise can be limited to minimum levels similar to those of the Mitsubishi conventional FR-Z series inverter .
* A compact and light weight direct current reactor(DCR)can be connected to units of all capacity (0.75 to 55K). It is possible to connect a high power factor converter (FR-HC) that comply with Japanese harmonic guidelines (conversion factor:K5=0).
* Combining with the optional EMC filter makes it easy to comply with European EMC Directives.
4) Global specitication
* Comply with UL, cUL and EN (Low Voltage Directive) as standard.
* The optional FR-PU04 parameter unit supports 8 languages.
* NEMA1 compliance is standard up to 22K.
* IP40 compliance up to 22K with the optional cover.
* Open network such as DeviceNet and Profibus-DP are available.
* The communication standard RS-485 is built-in.
* Sink/Source Logic is selectable.
F500 series technical specification
Control method

V/F control or Advanced magnetic flux vector control

Power supply voltage

200V class ... 3-phase 200 to 220V50Hz, 200 to 240V60Hz (0.4K to 22K)
200V class ... 3-phase 200 to 220V50Hz, 200 to 230V60Hz (30K to 55K)
400V class ... 3-phase 380 to 480V50Hz/60Hz (0.4K to 55K)


Output frequency

0.2 to 400Hz

Frequency setting signal

DC0 to 5V, 0 to 10V, 0 to +/-10V, 4 to 20mA

Operation unit

FR-DU04 (standard) or FR-PU04 (option)

Protective/alarm functions

Overcurrent shut-off, regenerative overvoltage shut-off, electronic overcurrent protection, stall prevention, etc.

Built-in options

FR-A5AX (12-bit digital input)
FR-A5AY (digital output, extension analog output)
FR-A5AR (relay output)
FR-A5AP (orientation/PLG/pulse train input)
FR-A5NR (RS-485)
FR-A5NP (Profibus-DP)
FR-A5ND (Device NetTM)
FR-A5NC (CC-Link)
FR-A5NM (Modbus Plus)

Request A Quote
If you have any questions please complete the form below and we will be intouch: