The AnyBus-X Gateway family, a new product line consisting of 130 different products aimed to connect almost every possible combination of two dissimilar industrial networks. The product family supports 15 different Fieldbus networks such as Profibus, DeviceNet, CANopen and CC-Link as well as two Ethernet-TCP/IP versions with Modbus-TCP and EtherNet/IP Protocol. The Units are designed for use in Industrial Automation plants where increasingly many different Fieldbus networks are used. The AnyBus-X Gateways help System Integrators to easily interconnect between the dissimilar networks and ensure a transparent information flow throughout the entire plant.

Incorporating both Master and Slave interfaces will give a possible 130 different network configurations in which you simply choose the networks that you want to bridge, as shown in the illustration (right). This gives a flexible and versatile solution based on proven AnyBus technology.

The AnyBus-X is an essential part of any network infrastructure. It is ideal when installing a new or retro fitting/upgrading an existing network. The robust aluminium housing, DIN-rail mounting and industrial environment agency approvals make this product ideal for use in all areas of automation technology.


Wireless Access System

The AnyBus-X Bluetooth is used to add wireless access and a standard web user interface to industrial equipment and gives optimal functionality and performance when bridging data between Fieldbus networks and Bluetooth.

Additionally, it includes an Ethernet (twisted pair) interface, which enables instant bridging to Internet or local LAN. Using a web interface, it's easy to perform tasks like configuration, management and control of industrial devices using laptops or PDA:s without the need for development and installation of proprietary client side software.
The AnyBus-X concept primarily focuses on the transfer of cyclic I/O data between dissimilar networks. The versatlity of the AnyBus-X can be seen below the 3 different ways of using the Gateway.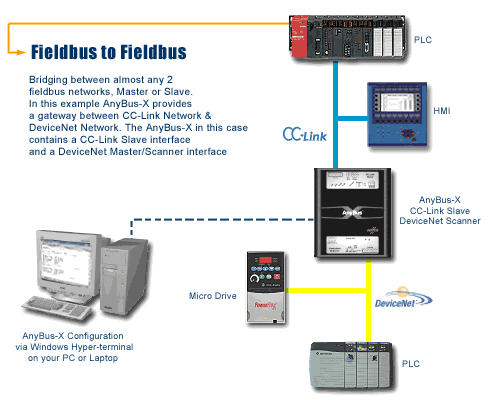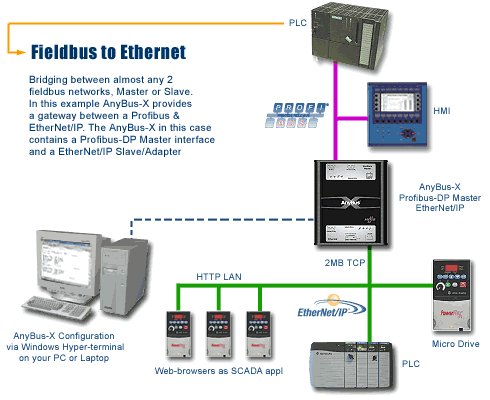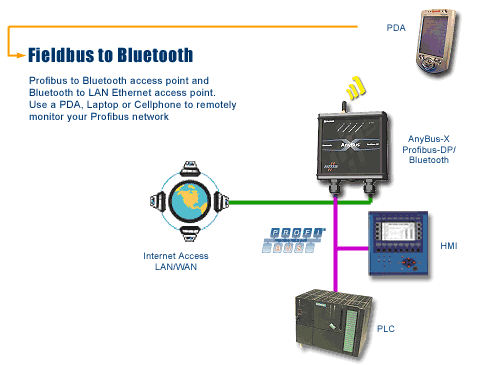 Configuration

The AnyBus-X has been designed for versatility, flexibility, reliability and above else easy to install and setup.The AnyBus-X gateway copies I/O-data in both directions thus enabling data exchange between the two networks. Default I/O configuration is 20 bytes Input and 20 bytes Output. Changing default settings is very simple and is carried out using the RS232 configuration port and a standard terminal interface on a PC, such as Hyper Terminal for Windows.

During the set-up of the Gateway, the user simply selects the maximal amount of I/O data that he wants to transfer from Network A into Network B. Since all Industrial Networks support a different amount of I/O data, the network with the least amount of I/O data determines how many data can be transferred in each case. For standard I/O applications, the configuration is very easy and no additional programming is required.
However, for use cases that require more extended functionality such as acyclic parameter transfers, pre-processing or data conversion, the gateway can be equipped with additional customised software functions on request.

Most Slave modules support auto-baudrate, or settings via DIP switches. Via a simple text based user interface via the on-board RS232 interface, Firmware download, setting of I/O sizes, status and version handling are available using a standard terminal emulator such as Windows Hyper-Terminal (pic left). EDS & GSD configuration files are also used and can be obtained from the HMS website. AnyBus NetTool can be used with Masters for Profibus & DeviceNet. 3rd party configuration software such as RS-Networx™ can also be used with all versions that contain DeviceNet, ControlNet & EtherNet/IP interfaces. AnyBus-X versions including an Ethernet interface have a HTML Web based diagnostic and monitoring interface.
Request A Quote
If you have any questions please complete the form below and we will be intouch: